Taking care of your pet litter box and manually removing their clumps and dispose of is a daunting task that nobody, even any cat lover, enjoys. However, things become much easier now thanks to the invention of cat litter disposal systems. Litter genie vs litter genie plus – Keep on reading to see the comparison between the two most popular options on the market.
No matter how much you love your four-legged furry friends, would you love taking care of the litter box? Doing the constant litter box clean up is a mission that no pet owner enjoys. Taking your pets' waste out of the litter box and taking it to the trash is one unpleasant aspect of this daunting task. Luckily, this chore is now simplified tremendously by a lot of different cat litter disposal systems.
In this article, we will take a closer look into the two most popular cat litter disposal systems available on the cat litter accessory market today. Litter genie vs litter genie plus – Let the battle begin!
How Important Is An Automatic Cat Litter Disposal System?
A diet plan promises to help you lose at least 10 pounds within a month. An insurance company guarantees to protect all of your interests through surety. A motorbike commercial ensures this model will give adventure seekers a thrilling off-road experience. And a self-cleaning litter box guarantees that you can feel free to help yourself to a hot coffee while it automatically scoops your cats' waste.
Check us out for various astonishing Cat Tips & Fact!
Can Litter Genie Really Prevent Your Home From Terrible Litter Box Odor?
Litter Genie
A brand used, loved, and highly recommended by Jackson Galaxy - a worldwide famous American cat behaviorist, animal advocate, and the host (the Cat Daddy) of the reality television show My Cat from Hell on Animal Planet, Litter Genie must be a cat litter accessory worth trying out. Knowing how daunting it is to manually remove clumps and dispose of your lovely four-legged friends, the Litter Genie production team tries their best to create an automatic cat litter system with the promises to make things a lot less malodorous in your home.
Top 5 Reasons Why All Cat Owners Should Own A Litter Genie:
Keep your home smelling fresh;
Reduce the number of times you have to clean your cat litter box;
So easy to operate, compact, hygienic, and perfect to use with all litter types that you might want to scoop more;
Less frequent visit of other pets into the litter;
A high-quality product with the Cat Daddy's reputation seal of approval.
Litter Genie vs Litter Genie Plus
What are their similarities?
Both Litter Genie and Litter Genie Plus help lock litter and awful smells away for days
Help lock litter and awful smells away for days
Cleanliness is the very first thing to consider when it comes to litter boxes, particularly the litter boxes of cats – the cleanest animal of all kinds. Forcing your furry friends to use a dirty litter box is synonymous with making them unhappy and uncomfortable, and at worst, encouraging them to pee outside their litter box.
Even though it is possible to find a handful of non-clumping cat litter box options available on the market, many of which have their own disadvantages in regards to smell elimination besides having to change the whole container more regularly. Litter Genie and Litter Genie Plus with their excellent barrier technology which can help lock away harmful germs and offensive odors allow you to get on a holiday for the long weekend—or several weekdays— without worrying about taking care of your cat's litter box.
No more daily trips to the trash
Each cat has a different littering habit and grooming behavior. And based on their health condition or whether he/she lives with other furballs or not, most pet experts will advise pet owners to scoop a litter box at least once a day. Manually removing your cats' clumps and dispose might be a tiring time of the day. With a self-cleaning litter box, pet owners will be free-minded. There is no need to worry about having to scoop your cats' waste regularly and where to put it.
You can have your self-cleaning litter boxes – which are perfect for all kinds of waste - help you with waste scooping. And you are allowed to set up waste scooping several times a day. Its five-layer bag with built-in odor barrier technology means that all pet parents have to do is to keep the massive amount of collected waste till they are ready to bring them to the outside trash – maybe once or twice a week.
Greatly reduce cat litter smell stinking up your home
In addition to the ability to contain odors and germs for multiple days, both Litter Genie and Litter Genie Plus can also give you a solution to solve the problems of litter stinking up your home. If you get tired of cat litter stinking up your home a lot, then it's time to get a Litter Genie model. You will fall in love with the distinct lack of smell that this will give you.
What are their differences?
Color options
The Litter Genie is available in black or silver while the Litter Genie Plus has more color options to choose from - black, navy, and espresso.  
Refill cartridge
Litter Genie Plus owns a refill cartridge that can last 30% longer than the refills at the standard size of the Litter Genie.
Built-in antimicrobial properties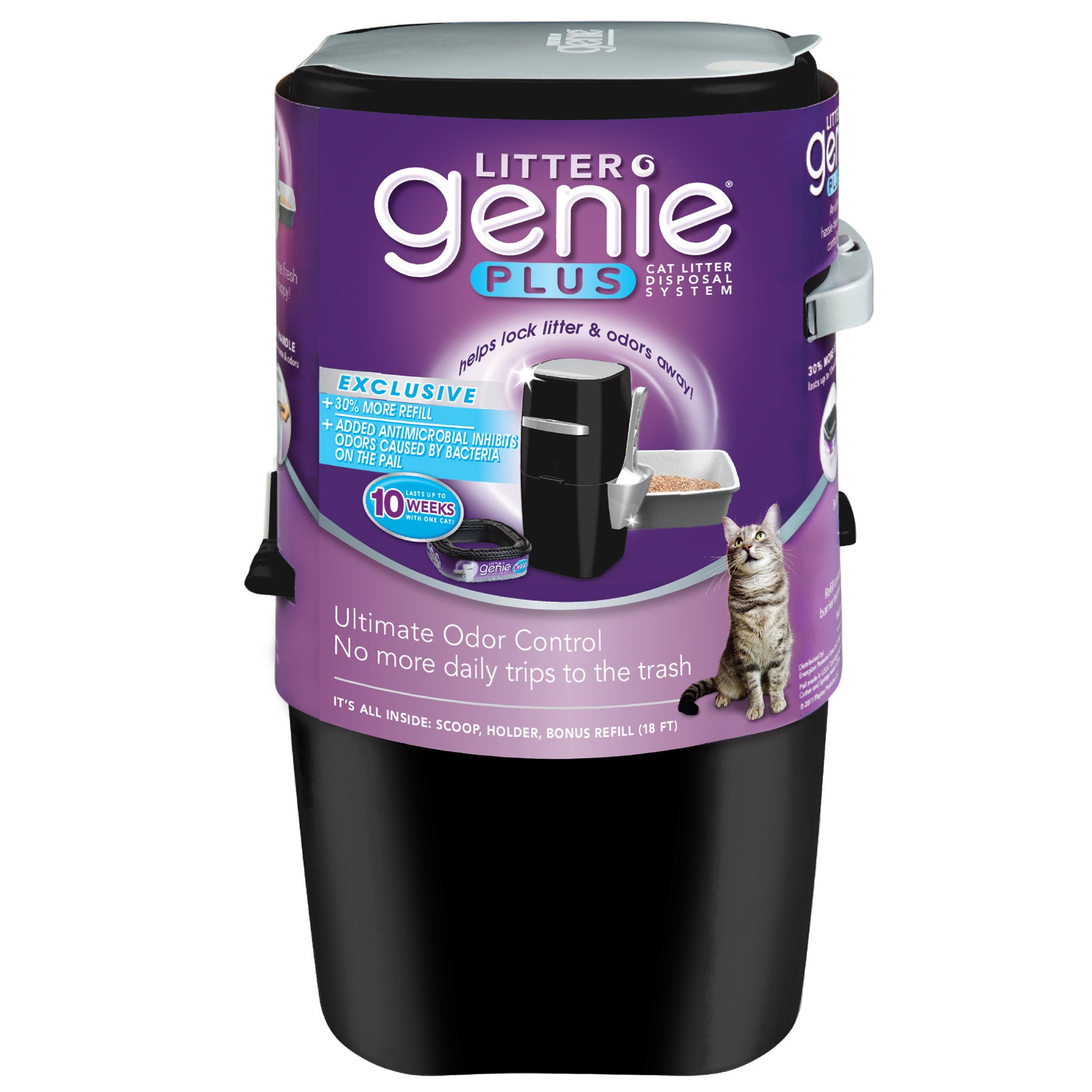 Litter Genie Plus
Built-in antimicrobial properties are what make the Litter Genie Plus outstanding.
Price
A self-cleaning litter box is always a pricey purchase. It is a misconception. Even though the Litter Genie Plus' price is higher than that of the Litter Genie, they are reasonable.
Daily trips to the trash and cat litter smell stinking up the home are some of the problems that cat parents definitely want to find a solution for. Litter genie vs litter genie plus? With the help of Litter Genie or Litter Genie Plus, things are much easier now.
Read more cat product reviews and find useful cat stuff at Cattybox!