Trader Joe's cat food is one of the best choices that meet all the requirements to keep your cat healthy and happy. Let's discover all about this product.
Many cats' owners select Trader Joe's cat food for their cats because it is cheap, provides enough nutrients and it also has a wide range of products like canned foods for cats, dry foods, high protein cat foods and so on.
Advantages of Trader Joe's cat food
Most people say Trader Joe's cat food is reasonable in price, high nutrition and cats love this food so much. It is true that this product has many benefits.
Good ingredients
Food ingredients are the first concern of cat owners when buying pet food. They will notice whether the ingredients in the food are nutritious enough to meet the needs of the cat and whether the food contains strange ingredients or not.
Trader Joe's cat food contains many sources of protein, including chicken, fish and powdered eggs, etc. Trader Joe's food is available in three variants:
Whole and natural cat food formula
Premium dry cat food contains chicken and rice formula
Premium chicken meal formula.
Whole and natural cat formulas contain whole grains such as brown rice, oats, and barley. These foods are nutritious, with no wheat, corn, and soy. It contains a mix of healthy fruits, vegetables, flax seeds, and omega-3 fatty acids.
Unlike most supermarket brands, Trader Joe's cat food has no by-products, artificial colors, flavors or preservatives. Trader Joe's also contains a wide range of minerals. Trader Joe's cat food contains chicken, a natural food formula, a rice dinner, and animal liver.
Easy to use
It is easier to feed your cat dry and wet food. When you put this food in a bowl, you do not have to worry about the food being spoiled. If you want to add flavor to your cat food, you can add a small cup of milk.
This product does not need to cook so that owners can save much time while feeding their cats. Just open the bag or can and pour in the bowl, now, the cats can enjoy their meals with exciting feeling because of delicious flavor.
You can also easily add more nutrients to your cat's diet. For example, you can add a little milk to dry foods, or you can add some meat or vegetables to wet foods if you want to add more minerals to your cat.
No contains by-product
Trader Joe's chicken, turkey, and rice foods contain no by-products. Not all brands contain high-quality ingredients, but this product does not contain by-products, dyes or other artificial minerals. It includes high-quality foods such as fish and chicken without the addition of animal by-products. That's why the Joe Traders product is recommended as the best product for your pet.
Perfect for allergies
Pets usually have a facial allergy because of certain foods. Certain ingredients such as artificial colors, preservatives, and flavors pose a threat to your pet, as they can be allergens that can cause pet allergies. In the meantime, you can see that he has many enrichments.
However, Trader Joe's cat food contains no negative ingredients that can affect your pet's health. Feeding this food to your cat will certainly improve the health of your pet and increase their life expectancy. It improves the quality of life and makes your cat happy.
Longer life
Trader Joe's formula and natural cat food products may seem inexpensive compared to other products. They are small but rich in nutrients, which helps keep animals healthy. This will help your cat have a good life.
Low cost, owners can save much money
The product of Trader Joe saves your money. If you buy these foods in bulk, they are available at much lower prices. That is reason enough for so many people to buy this product. It also saves time because Trader Joe's dry products help preserve your cat's dental health. This dry food is considerably cheaper than other canned food.
In conclusion, Cat food of Trader Joe's has many benefits with cats. This product can help you to save money, and you do not have to worry about finance when considering to raise a cat. Besides, this product also provides enough nutrients for cats due to good ingredients so that owners can be assured about the safety of food for cats.
Check us out for further detailed cat's health guide!
Negative aspects of Trader Joe's cat food
Besides many benefits, the product of Trader Joe's still has negative aspects. However, these disadvantages are so small.
Contain carrageenan
One of the disadvantages of Trader Joe's cat food is that it contains carrageenan.
In food, carrageenan is used to create gels, thickeners, stabilizers in products such as fondant, lord, sausage, canned meat, ice cream, spices, milk, bionic food, jam, beer, bread. Companies often use carrageenan as a gelatin substitute vegan, for example in desserts. It is also used commonly in the canned pet food industry.
Carrageenan can cause flatulence and food allergies in cats. However, with only a small amount of Carrageenan, this situation almost does not happen.
Some cats do not like the flavor
Some products make the cats finicky. Although made of good ingredients, Cat food of Trader Joe's cannot satisfy most cats. Many owners feedback that their cats do not like and ignore Trader Joe's Wholesome and Natural Cat Food so that they will not buy this product again.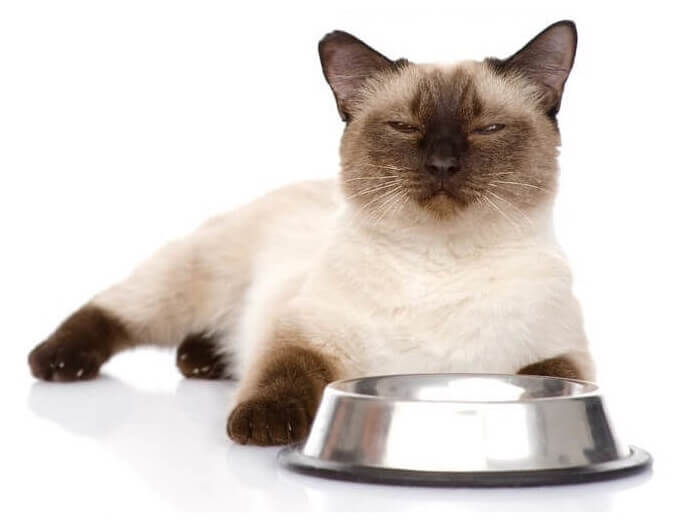 Also, many canned food is too small, and it does not meet the cat's diet with just one can. For example, The Trader Joe's Chicken Turkey and Rice Dinner is so small in size so that many people say they have to feed their cats 2 cans and they even say this is a rip-off.
Conclusion
In conclusion, Trader Joe's cat food has both positive and negative sides. However, this is still one of the top choices of cats' owners because of its prices as well as benefits to cats.