Paws and Claws cat food is one of the brands that are familiar with pet owners. In this article, we will give you some review about this cat food brand.
As you may know, Paws and Claws cat food is an available food brand. It is quite popular due to their qualities as well as their reasonable prices.
But before we come to some details about this brand, we will discover the reason why some people use available food for their cats instead of the leftovers.
Why do we need to use available cat food?
Available cat food is the food that is produced for use as a feed exclusively for them. Cat food contains both dry grain foods and wet foods.
Advantages of using separate cat food
The best point of available food for cats, when compared to the leftovers from the owner, is:
They have a variety of nutritional formulas, nutritional values, flavors, sizes, shapes. And most importantly, all of them are certified to standards of quality inspection of production from the relevant organizations. So, you can feel secure about their food safety.
Do the research, find out the full formula and balance by the standards suitable for cats.
Nutrition facts are clearly stated so you can know the amount that your cats need each day.
High safety standards based on testing of contamination and toxicity of food.
Diversity in the selection of formulas by type to suit the age and health of cats.
It is convenient and takes very little preparation time.
Convenience in storing leftover food and also can be stored for a long time.
The price is very suitable with the quality of food.
The reason that we should buy cat food
From the above advantages of cat food, we can see that this is the right kind of food. It is more beneficial for cats than for leftovers from the owner. This is the kind of food we cannot control all aspects. For example, the nutrition that cats may get is too much or too little.
On the safety of food, even the owner of the cat cannot know that the food is toxic to his pet or not. And more important, the price for each meal compared to the value that the cat receives, available food is much more valuable.
Check us out for further detailed cat's health guide!
Paws and claws cat food
Compared to other cat food brands, Paws and claws cat food is not an excellent name. It's just a mid-range brand. The brand has a total of 15 products including dry food and wet food.
We should rank wet and dry foods separately owing to their different nutritional composition.
Now, we will give you some reviews about several high-rated products. Let's check it out!
Wet food
Wet food range accounts for the majority of Paws and Claws cat food, with 12 products. So, the manufacturer also spends more priority on it. The wet food scores about 4.8 / 10, making Paws & Claws a dramatically below average wet cat food brand in comparison with the others.
Paws & Claws Kitchen Selects Gourmet Flaked Tuna Dinner in Gravy
Although this product is not the most plentiful, it still contains a lot of top ingredients such as chicken, tuna and turkey. They are all the high-quality protein sources.
Moreover, this product does have neither bulk-adding fillers nor by-products. As you may know, the more by-products it contains, the lesser the quality of ingredients are. And the fillers often add some bulks into products; these substances are not allowed to appear in cat's diet.
So, be happy if you don't find any information on these two substances on the package. It may be a good indication of a high-quality product.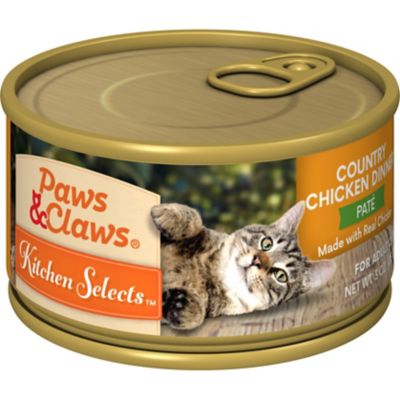 A cat's diet needs a high protein, lower carb, medium fat with enough moisture. Overall, this product can meet this demand as it contains significantly more protein and fiber but fewer carbohydrates as well as less fat than average.
However, as Paws & Claws Kitchen Selects Gourmet Flaked Tuna Dinner In Gravy has some ingredients such as guar gum and carrageenan, which are harmful and may cause the medical condition to cats, you should consider carefully before using it.
In brief, this Paws and Claws cat food contains about 75 calories per 100g, which is evaluated for fewer calories more than these other products having the same price. Therefore, it earns 7 out of 10 based on its ingredient list and nutritional analysis.
Dry Food
Out of the 15 products, the remaining three products are dry foods. They score only 2.7 / 10. This is not a bad mark. You still can buy these dry foods if they have sufficient ingredient and nutrition that your cat needs.
Paws & Claws Kitchen Selects Hearty Chicken Flavor
Paws & Claws Kitchen Selects Hearty Chicken Flavor is explicitly designed for cats in the adult age. With 100% real chicken meat, high in antioxidants, this balanced formula can ensure that your cat will get the necessary minerals and vitamins to maintain an overall healthy lifestyle.
Of the three types of dry food, Paws & Claws Kitchen Selects Hearty Chicken Flavor has the most nutrient ingredients. It contains some top ingredients such as gluten meal, brewers rice, ground wheat, and soybean meal.
There are some bulk-adding fillers but they are used to maintain the kipple shape, so it is not harmful to your cat much.
Although this product contains less fiber, fat, and moisture, it has more carbohydrates and an average amount of protein.
This Paws & Claws dry food has nearly 355 calories per 100g. An amount of calories is less than the other dry cat food brand's calories. Therefore, it earns only 3 out of 10 relied on its ingredient list along with nutritional analysis.
Paws and Claws cat food is not a bad choice
After reading the information above, some people can consider using this food brand. But, believe us, Paws and Claws cat food certainly brings to your cats the most plentiful and healthy ingredients as well as essential nutrition.
Try Paws and Claws cat food once, and you will not regret!
 Read more cat product reviews and find useful cat stuffs at Cattybox!